Painting the legendary Razvedchiki 2/3: updated 2/11/11
Thanks to everyone for the feedback following the last piece on painting razvedki.  Mark has kindly come up with some cracking colour footage from the 1955 Czech classic 'Tankova Brigada' which shows a khaki variant of 38 "amoeba pattern" camouflage (this could be Late- or Post-War though – we're not sure.  Interesting nonetheless):
And, if all this wasn't enough, here's an excellent photo of a very good reproduction: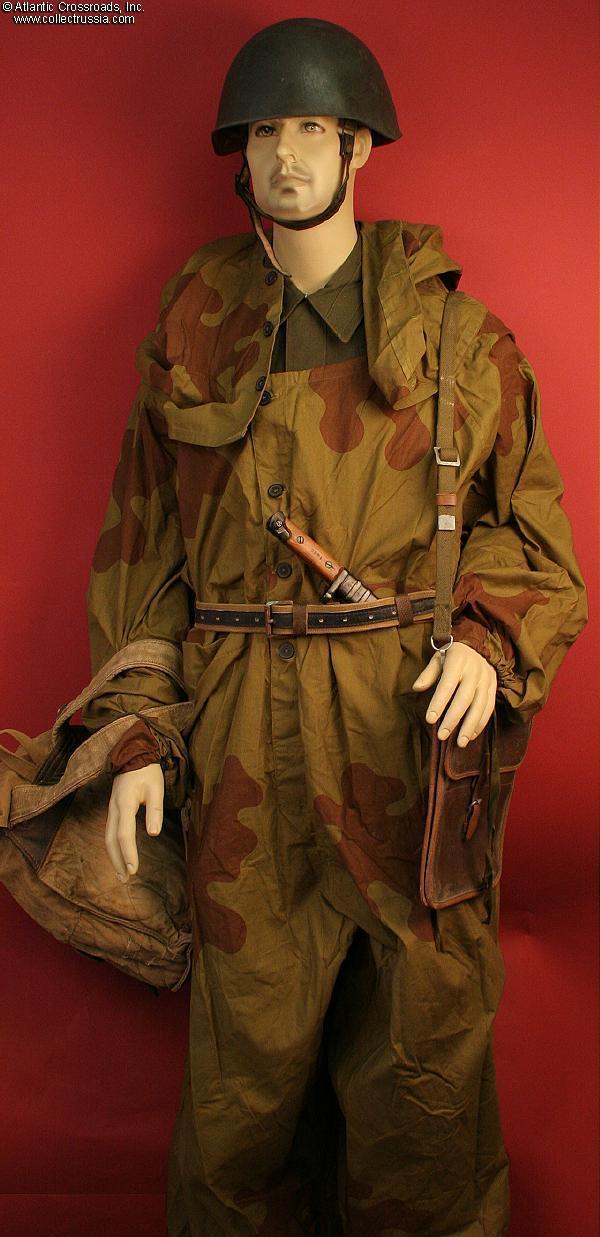 I've followed Braxen's advice and lightened up my Khaki coveralls using Panzer Aces 321 Highlight British Tank Crew.  I like the effect:
I've also sourced some more photos of razvedchiki and the 38 camouflage pattern itself:
But I'm (nervously) skirting around the main challenge: painting the amoeba pattern itself.  A trawl of the 1/6th scale kit-bash forums reveals an interesting template to consider, but this pattern would have to be simplified at 1/100th:
What I've taken from this, though, is that less is more. Applying the amoeba pattern sparingly, often in opposite alternating positions on legs, arms, tunics, cuffs and collars seems to work well.
The less is more principle works well on the only other examples of well painted "amoeba pattern" camouflage I've found:
These 360 degree shots from Chevalier de la Terre's 'test pieces' (if only I could paint to this standard!) are particularly useful:
Chevalier's method here was to start with a central point from which lines were painted outward a short distance before building up a ball near the ends.  This was followed by a thickening up of the line leading back to the central point (thanks Chev!).
An alternative – but very similar method – is to paint a series of dots around a central point and then link them up with lines of varying thickness.
After trying both methods, I prefer the first as it lets you have more control of the shape of the pattern. With the lines painted, it's relatively easy to add the blobs on the end and thicken up the 'arms'.
How have I done in practice? Well, it's certainly more difficult and time consuming than it looks and I'm not altogether happy with these 2 test pieces:
Here's what I've learnt:
Use watered down paint, German Camo. Brown (150) and a fine 3/0 brush helps with the blobs.  Be aware that – on a 3-dimensional surface – if your paint is diluted alot it will run in to the folds if you load your brush too heavily. Try a 1:1 mix of water to paint to start with.
Keep your pattern simple first, a curled  'X' or 'Y' works nicely. You can always work up to more complicated shapes as your confidence grows.
The trick is smooth and consistent arcs of colour. Don't be afraid to touch up any rough or jagged edges.
Keep your base colours pure, i.e. one particular manufacturer's colour.  You don't want to waste time trying to match that unique mix you created 2 weeks ago when touching up your errors.
Keep a firmer larger brush dampened (but not soaked) in water ready to easily erase any mistakes.
Don't go overboard on the amoebas.  Less is most certainly more at this scale as you can probably see from some of my more outrageous examples! 🙂
Don't fuss (too much).  I've got 19 of these chaps to paint.  En masse and at 3ft. away, I'm sure they'll look better.
As you can see, they're still looking a little flat.  Shading complicated camo can be tricky. I'm going to use Army Painter Soft Tone rather than my usual Strong Tone.  As you can see, it does give a sense of depth without obscuring the pattern of the camouflage:
Perhaps 2 coats?  As always all constructive feedback welcome…
Oh well, they all need more work and it's nearly tea time.  Perhaps I'll scrape 3 entries out of this project rather than the anticipated 2!  🙂