Painting Wargaming Figures (Gomez, 2015): a review
I've had a copy of Javier Gomez's Painting Wargaming Figures in my bookshelf for a while now.  Published by Pen and Sword late last year at a retail price of £16.99 this 218 page soft-bound copy of 4 chapters explores in detail how to paint 28mm wargaming figures.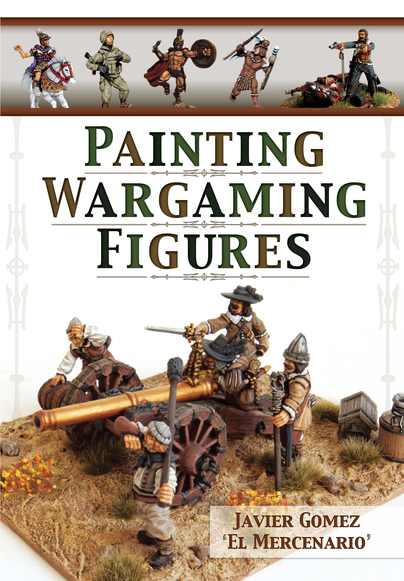 A professional painter and repeat Salute Historical Painting Competition winner, Javier Gomez comes recommended by the Perry Twins and prefaces with a personal and then frank introduction to his preferred style of painting. This is a book that will teach you how to paint units of 28mm wargaming figures for the tabletop using a base-coat and 2 (or more) highlights, a technique made popular by, amongst others, Kevin Dallimore and Wargames Foundry.  This is achieved through step-by-step colour photography of a wide range of historical and some fantasy figures painted in conveniently tabulated Vallejo acryllics supplemented by drybrushing, lining and layer techniques and the use of patinas (think bitumen of Judea or Army Painter Quickshade) .
The first 40 pages or so of Part 1 cover these topics clearly and concisely in a light-hearted and informative manner.  The last 18 pages of Part 4 take a regretably cursory look at how these  techniques can be applied to larger 40mm figures and, more predominantly, smaller scales down to 6mm.  So far, so good? Well, yes. Sort of.  You might be forgiven for thinking 'So what?' given the large number of other comparable publications (see our review of the excellent Painting War here) and prevalence of freely available and often highly specific online tutorials.  Do the remaining 160 or so pages justify the cost or is it just talented eye-candy?
The author avoids both potential pitfalls by choosing to focus on colour and perennial themes. The 8 chapters that make up Part 2 are devoted to showing you step-by-step the options open to you when painting with black, white, blue, red, brown, grey, green and metallic shades.  The 8 chapters that make up Part 3 walk you through flesh, faces, horses, shields, flags, camouflage patterns, basing and varnishing.  In this way, it doesn't really matter who the author is painting, it could be Jon Snow, Napoleon or Leonidas:
Instead, you're learning how to paint within the 3-shade system:  what colours mix well to effectively shade or highlight black;  which colour combinations complement or create eye-catching contrasts; how do patinas effect tone and can you use this to accelerate the painting process:
By focusing on universal colours and generic themes rather than a specific time or place, Javier ensures that Painting Wargaming Figures is not just essential for the beginner but useful in developing the knowledge, understanding and skills of the more experienced 'intermediate' painter.  It's this that makes Painting Wargaming Figures and, for once, justifies the blurb on the back-sleeve that 'whatever your preferred historical, Sci-fi or fantasy setting this book is an invaluable source of practical advice and inspiration' (the former being more important than the latter, of course… 🙂 ).