Uniform reference guide 1: the Red Army infantryman (updated 19/02/11 so you can reference the images – doh!)
Whilst there's a lot of individual painting guides out there, I've found that they're not always able to help you with every aspect of painting your army.  You know what I'm talking about, the moment when you're left thinking urm…what colour should I paint that[insert obscure piece of equipment here]…
Starting with the Red Army's Frontovik, I thought I'd pull together a list of references I've found useful in the hope that it meets most players' needs.
I've crudely divided players into 3 categories that variously reflect my changing attitudes towards painting:
The Gamer – folk who want to get their figures out as quickly as possible with the minimum of fuss and expense.
The Hobbyist – folk who want to get their figures out in a timely manner, but want to be reasonably confident that their minis resemble their historical counterparts.
The Purist – folk who want to ensure that their figures closely resemble their historical counterparts and who don't mind taking the time and money (or the loss of their eyesight) to do so.
Of course, if you don't recognise any of these categories feel free to dip in anywhere you where you like and share your own recommendations as we go.
The Gamer's guide:
These references should get you started with your Strelkovy with the minimum of expense and fuss.  Pick up any of Battlefront's Eastern Front army list books and you'll find a quick guide to painting the uniform of a typical Mid-Late War Frontovik in a M.43 tunic (gymnastierka) and M.40 helmet. You'll also get a quick glimpse of two variants of the so-called 'amoeba pattern' camouflage characteristically worn by your scouts and sappers. If you're lucky, you'll be able to dig out a reference to painting cossack uniforms as well!
If you want to paint up your officers, comissars or have a stab at NKVD, take a look at the reproduction Soviet uniforms produced by TRIDENT MILITARY photographed here.  Tank crews, greatcoats, webbing and equipment are covered in a useful 115 page compilation pulled together by video gamer Dennis Schwarz. Sadly, it's no longer available from his website, but we've hosted it here to save you the disapointment 😀
The Hobbyist's guide:
With the list above under your belt, you can extend your reference material by obtaining a copy of Osprey's (1999) modeslty priced (£7.49) The Red Army of The Great Patriotic War, 1941-5 by Steven Zaloga: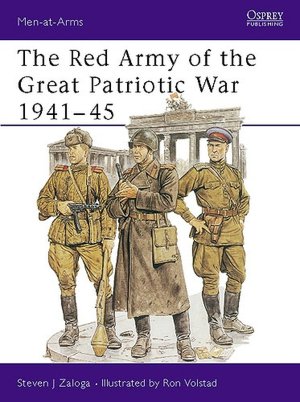 Whilst superceded by more recent (but less popular) publications, this slim and accesible volume is a good source for the uniforms relating to naval infantry, the medical branch (think Rita Makarievskaya), cavalry (including Don, Kuban and Terek Cossacks for fans of the Guards cavalry regiments), snipers, scouts and sappers (speaking of the latter, don't forget the Model Dads ensemble of all things amoeba!).  The eight colour plates are supported by numerous useful black and white photographs. 
Sources for Partisan Brigades are limited, but Osprey's (2004) Partisan Warfare 1941-45 by Peter Abbot and Nigel Thomas contains 1 relevant colour plate.  Probably a better (and more interesting) source is Elim Klimov's film, Come and See:
Looking at the flag in the photo above reminds me that there are many alternatives to Battelfront's Soviet banner template if you're prepared to do a bit of work resizing in your favourite graphics package:
The Purist's guide:
In my view the top spot can only go to one publication, Histoire & Collections' (2011) The Soviet Soldier of World War Two (£22.40) by Philippe Rio:
There's virtually nothing this book doesn't cover in exhaustive detail.  Want to paint those medals on your Hardened Veterans correctly?  Pages 12-16 provide you with colour photos of all Soviet decorations.  Wondered what colour to paint the field telephone in your arty HQ? Check out page 33.  Want full clour guides to all arm-of-service colours for officers, NCOs and other ranks 1935-43 or 1943-45? Check out pages 38 – 45.
Over 55 full colour photographic plates cover the variety of uniforms worn by the Red Army between 1941-1945 including penal battalions (cf. 8th Independent Penal Battalion) , winterized razvedchiks (scouts), assault gun crews and artillery regiments.  All aspects of equipment and small arms are meticulously detailed, including SN42 body armour and even the wire cutters for your Engineer-Sapper Battalion.  The wide range of colours and materials used for ammunition pouches, holsters, water bottles, entrenching tools and officers' map cases are covered in glorious detail.  If you ever needed an license to stop painting your Soviets khaki, this book is your ticket to ride.
In fact, I guess this book takes me full circle.  I'd go so far as to say it's the only reference guide you'll ever really need when painting Frontoviki.  Gamers, Hobbyist and Purists of the World unite and place your orders on Amazon now! 🙂